'50 Years a Prince'
Category:
Television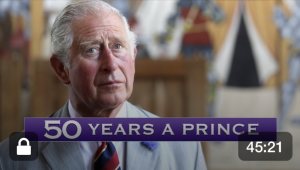 The title of "The Prince of Wales" first began in 1301 and ever since then the male heirs to the throne held that title, signifying their importance in the line of succession. Charles' investiture in 1969 took place at Caernarvon Castle, a beautiful setting for this prestigious event. In the ceremony Charles claimed to his mother the Queen, "I, Charles, Prince of Wales, do become your liege man of life and limb and of earthly worship, and faith and truth I will bear unto thee, to live and die against all manner of folks."
Well, all the pomp and ceremonies aside, Charles could have simply held the title and gone on with his life. But he chose to delve deeper into the history, language, culture, and people of Wales. He has truly dedicated his life to Wales and even has a residency in the country, where he and Camilla can stay when in Wales.
This residency provided him seclusion and a place to reflect after the funeral of his father. He has come to see the home as a wonderful retreat from the stresses of daily life, while at the same time getting more in touch with the people of the country. He especially enjoys learning about their work and families, and has decorated his home with textiles from the region. While he gets closer to the people, they get closer to him. Their symbiotic relationship is healthy for the relationship between the country and the crown.
Prior to his investiture Charles took in-depth studies of the language and history of Wales. During that time he became completely engaged with the country and his love of Wales and the Welsh people is evident.
This documentary, currently available to stream on True Royalty TV, is a look at how Prince Charles has taken his duty of "Prince of Wales" to heart. While there are many in the country that do not want a British prince, or even to be part of the United Kingdom, Charles has shown his love and devotion to the country.
About the Author
Francine Brokaw has been covering all aspects of the entertainment industry for over 25 years. She also writes about products and travel. She has been published in national and international newspapers and magazines as well as Internet websites. She has written her own book, Beyond the Red Carpet The World of Entertainment Journalists, is the entertainment correspondent for Good Day Orange County, and has her own TV show, Beyond the Red Carpet, on Village Television in Orange County. She is a longstanding member of the Television Critics Association and is accredited by the MPAA. Follow her on Twitter.