'45 Years' on DVD and Blu-ray
Category:
Blu-ray's and DVD's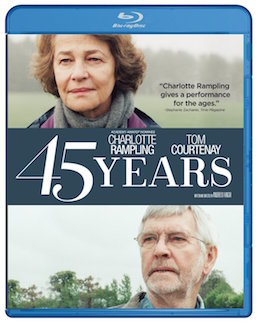 Charlotte Rampling and Tom Courtenay star in this deeply dramatic story of a couple about to celebrate their 45th anniversary. 45 Years is the story of love, life, secrets and aging when Kate (Rampling) discovers something about Geoff (Courtenay), the man to whom she has dedicated her life and who has been her partner in life for the past four and a half decades.
In their golden years Kate and Geoff have settled into a comfortable existence. They are happy in their lives and their marriage. Then one day they receive news that rocks Kate to her core. It's about Geoff's old girlfriend, a woman who was killed before Kate met him but who now threatens their marriage. After all these years, Kate slowly discovers how important this woman, Katya, was in her husband's life and whose memory has played an important part in his life and decisions.
Finding out something about her husband now, after 45 years, is something that deeply disturbs Kate and haunts her every day. While preparing for their anniversary party, Kate is distracted. How could he not tell her about the love of his life? Was she his second choice?
Kate feels alone and confused. They don't have children and their house is quiet and up until now the only thing that has been a concern to them was Geoff's bypass surgery five years before. Now Kate peels back the layers of her husband's life and discovers things he has never told her but that have been important to him and that made him the man he is.
For Kate, the stability she had known is now rocky. The comfort she has known has been disturbed. The final moment of the film is disquieting as Kate realizes her life will never be the same.
Rampling was nominated for an Academy Award for her performance in this movie. There is no doubt about her acting ability. Her performance is touching, sensitive, and heartening.
45 Years is a drama in every sense of the word. It tells the story of how a secret revealed can disrupt and disturb a formerly content and happy marriage. It's rated R for language and brief sexuality.
About the Author
Francine Brokaw has been covering all aspects of the entertainment industry for 20 years. She also writes about products and travel. She has been published in national and international newspapers and magazines as well as Internet websites. She has written her own book, Beyond the Red Carpet The World of Entertainment Journalists, from Sourced Media Books.
Follow her on Twitter