'36 Hours' on Blu-ray
Category:
Blu-ray's and DVD's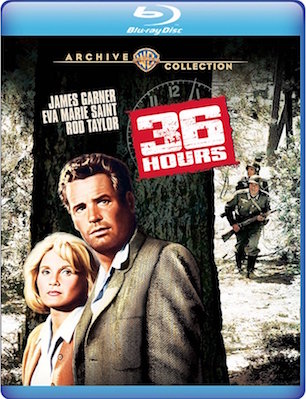 James Garner stars in 36 Hours, a World War II movie with an interesting plot. Garner plays American Major Jeff Pike, only one of a few people who know the facts about the upcoming Allied invasion on Normandy. He knows where and when it will happen. He would be an asset to the Germans if captured. That thought runs through his mind when he is sent to Lisbon to get one more piece of the puzzle.
His worst fears come true and Pike is captured. He wakes up in 1950 in an American hospital in Germany after the Allies have won the war and are occupying the country. He has no recollection of the past six years.
Pike is attended to by doctor Major Walter Gerber (Rod Taylor) and nurse Anna Hedler (Eva Marie Saint). They explain that he suffered an injury and are trying to help him regain his memory. In fact it is an elaborate ruse put on by the Germans to get the information about the invasion from him. It is only one day since he was captured in Lisbon, but they have gone to great lengths to put on a show to make him believe it is 1950. They even print fake newspapers. As they gain his confidence and he begins to believe them, he does reveal the facts about the invasion. After all, it was six years ago. But it wasn't. It hasn't happened yet.
When Pike suddenly realizes he is being tricked, he turns the tables on the Germans and they are dumbstruck. What are the facts? Is the invasion going to happen in Normandy or Calais? He has them thinking and rethinking everything he has said.
Garner is not a novice to WW II movies, having starred in The Great Escape, The Americanization of Emily, and Up Periscope. In 36 Hours he turns in an exemplary performance as a man caught up in a psychological experiment but who is smarter than his captives.
For Rod Taylor fans it is disconcerting to see him as the enemy, although in this film he is not the bad man he seems to be. He is more interested in his medical work to heal amnesiacs than in the military aspects of his experiment he was coerced into using on Americans. Still, he is more suited to being the handsome leading man than a Nazi.
36 Hours is an interesting story with a great cast. It is available on Blu-ray from the Warner Archive Collection and can be ordered at their website or wherever Blu-rays and DVDs are sold.
About the Author
Francine Brokaw has been covering all aspects of the entertainment industry for over 20 years. She also writes about products and travel. She has been published in national and international newspapers and magazines as well as Internet websites. She has written her own book, Beyond the Red Carpet The World of Entertainment Journalists, from Sourced Media Books.
Follow her on Twitter