Shanice Williams Stars in 'The Wiz' on NBC
Category:
Television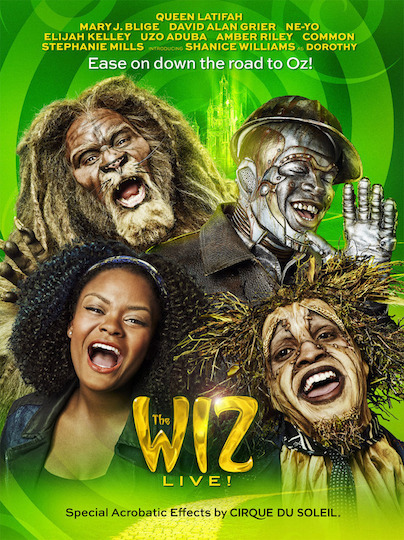 Just as Dorothy was magically transported to Oz, Shanice Williams is taking an equally magical one based in reality. Chosen from a talent pool of hundreds of young hopefuls, the 19-year-old New Jersey miss heads the cast of NBC-TV's The Wiz Live! airing Thursday, December 3, 2015.
It was a tall order finding a real-life Dorothy as producer Craig Zadan explained, during a break in the rigorous rehearsals at Grumman Studios in Queens, NY, "We needed to find the one person who was not only the right age, but could also sing well, dance, and have a presence capable of carrying the story."
Zadan remembers the exact moment Williams bowled over the producers and director and knew with certainty they had found their Dorothy. It was her rendition of "Home." the production's final number. "There wasn't a dry eye in the room," he interjected.
Poised, and confident with a bubbly personality reminiscent of a young Janet Jackson, Shanice seems to be taking the challenge in stride. Her secret is prayer. She elaborated, "I've always lived by that advice, whether it's a school play or something more to pray. I've done a lot of praying lately. So now I'm going to lay it all on the table and do my best."
Ironically, Shanice"s first brush with L. Frank Baum's classic fantasy dates back to middle school although she was too nervous to audition for the part of Dorothy, and comfortably settled into the role of Addaperle. That case of jitters proved to be fleeting. By her senior year at Rahway High School she had already played Snoopy in You're a Good Man, Charlie Brown and the diva Dorothy Brock in 42nd Street. Such exposureearned her a rising star award nomination from Paper Mill Playhouse, a regional theater in Millburn, NJ.
Following graduation, Shanice headed west to study at the American Musical Dramatic Academy's Los Angeles campus. A major case of homesickness cut short her plans. That exact day, June 6, she landed back East coincided with casting call for The Wiz Live!
The parallels between real life and fiction haven't escaped Shanice's awareness. She revealed, "I went to LA and found out I didn't belong there, like Dorothy, who wants to go to Omaha. But once she does, she misses home. In the beginning she's struggling to find out who she is and where she belongs. I feel everyone has a little bit of that inside them, especially at my age, trying to figure out who I am. So we really connect."
Produced in association with Cirque du Soleil, The Wiz Live! is actually a restaging of the Tony-winning Broadway show that was set to an R&B beat and boasted an all black cast. Brought in to overhaul the score and make it more contemporary was Grammy winner Harvey Mason Jr., who produced the Dreamgirls movie soundtrack.
The production, which runs upwards of two hours, is the third live show produced by the television network, following "The Sound of Music Live" in 2013 and "Peter Pan Live" last season. The former, starring Carrie Underwood, attracted nearly 19 million total viewers, while the latter faltered at 9.1 million viewers. It proved to be a valuable lesson.
Zadan concedes that the title alone isn't always enough to rack up the big numbers, so as added insurance they've recruited some of Hollywood's biggest names. Celebrities like Queen Latifah in the title role, Mary J. Blige as the Wicked Witch of the West, Ne-Yo as The Tin Man, David Alan Grier as the Cowardly Lion, and Elijah Kelley as the Scarecrow with Common as the Emerald City gatekeeper/bouncer. The show also features Emmy winner Uzo Aduba of "Orange Is he New Black") and Amber Riley as the two good witches of Oz.
Pulling it all together is Tony Award winning director Kenny Leon of A Raisin in the Sun and Fences fame.
Far more than a routine gig, both Queen Latifah and Blige both claim to have an emotional attachment to The Wiz. Latifah shared her early exposure to the production, "My mom took me there (Broadway) as a kid. I don't know how she hustled up those tickets. I know money was tight. I was blown away. It changed my whole mind frame. Seeing a story that I was familiar with and told though the lens of people who looked like me, it felt like a place that wasn't a fantasyland, but rather a place I could go to.
"So I became more inclined to audition for the school plays and really see it as a real possibility. It definitely changed and shifted my mind in a big way."
Blige felt equally grateful, The Wiz is the only reason why I am here. As a kid, growing up in the inner city, it's hard to leave. But when you see Michael Jackson and Diana Ross, who are both the untouchables and the biggest entertainers of our time, it gave me hope. It inspired me. It told me I had in me what I needed already to make it in the world.
"So to be a part of something that can do the same thing for another generation, I could not ask for anything more in my real life right now," Blige concluded.
About the Author
Winnie Bonelli is a former entertainment editor for a daily metropolitan New York City area newspaper. She is passionate about movies and television and loves to take readers behind the scenes.