2015 Christmas TV Roundup
Category:
Television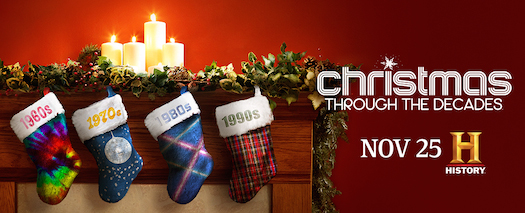 Gifts to buy, cards to write, parties to attend – the demands of the holiday season can leave the most optimistic person drained and stressed. What's desperately needed is a hearty infusion of Christmas spirit. So pull up an easy chair, brew a cup of hot chocolate, and flip the television selector to a roster of the networks' specials, ranging from humorous classics like Mr. Magoo's Christmas Carol and the 17th annual heart-tugging A Home for the Holidays, that introduces children adopted from foster care by loving families, to Lifetime's premiere scheduling of happily-ever-after romantic tales.
Here are a few of the holiday offerings this year:
Friday, Dec. 5 on Lifetime – The Flight Before Christmas – After a totally unexpected breakup, Stephanie (Mayim Bialik from The Big Bang Theory) boards a red eye flight home where she meets Michael (Ryan McPartlin.) They detest each other at first sight, but when the plane is diverted to a small town in Montana they are forced to share the only remaining room in the entire hotel. Upcoming weeks feature Wish Upon a Christmas on Dec. 12; Christmas in the City on Dec. 14; The Spirit of Christmas on Dec. 19; The Merry In-Laws on Dec. 21; and Sons of Mistletoe on Dec. 23.
Friday, Dec. 5 throughout the holiday season on ABC Family – Meet the Santas; This network promises a month long programming of entertainment specials, classic movies and returning favorites. Meet the Santas recounts the story of a woman planning her Christmas Eve wedding only to discover that the intended groom has taken over the role of Santa Claus at the last moment. Continuing to build momentum The First Christmas brings into focus a young, blind shepherd who experiences a miracle that enables him to see snow for the first time. The animated tale is narrated by Angela Lansbury. The month long programming concludes on Dec. 26 with The Year Without Santa Claus.
Sunday, Dec. 6 on UP – Beverly Hills Christmas; Donna Spangler and Dean Cain share star billing in the tale of a spoiled materialist teen who learns the value of assisting others with the help of a guardian angel.
Monday, Dec. 7 on ABC – The Great Christmas Light Fight; For the third year, Taniya Nayak from Restaurant Impossible and Carter Oosterhouse go scouting the nation for the most extreme holiday home decorating. With $300,000 in prize money at stake, the winner will need the money just to pay the utility bill. Three more weekly episodes air through Dec. 21.
Monday, Dec. 7 on ABC – The Great Holiday Baking Show. Based on the UK reality hit series, amateur bakers compete with an emphasis on cookies and sweets. Numbered among the judges is England's "Royal Queen of Baking" Mary Berry. The series continues next week in the same time slot.
Wednesday, Dec. 9 on truTV – Santas in the Barn: This topical series pits 10 wannabes against each other for the title of "America's Best Santa." Just how kid savvy the contesters are will be judged by their pint-sized fans, beginning with opinions on their choice of toys. Additional episodes air Wednesdays and Thursdays through Christmas Eve.
Wednesday, Dec. 9 on History Channel – Christmas through the Decades; This nostalgic trip down Memory Lane spotlights excerpts from Bob Hope's Christmas Tour and A Charlie Brown Christmas, along with must-have toys like Tickle Me Elmo, Cabbage Patch Dolls, and Star Wars action figures first popularized in the 1970's.
Thursday, Dec. 10 on NBC – Michael Buble's Christmas Special; Returning for his fifth holiday special, the crooner welcomes Celine Dion, Sharon Jones and the Dap Kings, along with the comedic bits with Jay Leno, Eva Longoria, William Shatner, and Blake Shelton.
Thursday, Dec. 17 on CW – iHeartRadio Jingle Ball; A star studded concert headlines Nick Jonas and Demi Lovato plus 5 Seconds of Summer, hosted WHTZ-FM's Elvis Duran.
Thursday, Dec. 17 on PBS – National Christmas Tree Lighting; Joining President Obama and the first family for this annual holiday tradition.
Friday, Dec. 18 on CBS – 17th annual A Home for the Holidays; With LL Cool J serving as host, the special travels across American bringing musical headliners like Christine Aguilera, Jason Derulo, and Rascal Flatts face-to-face with their fans as they introduce children adopted from foster care. Profiled are the Levy Family from Canyon Country, CA., the Oden Family from Los Angeles, and the Alfonso-Monreal Family from Long Beach, CA. They're representative of the 400,000 youngsters currently in foster care awaiting adoption.
Sunday, Dec. 20 on PBS – Christmas with the Mormon Tabernacle Choir; With an able assist from Santino Fontana of Rodgers and Hammerstein's Cinderella fame and the Muppets, the choir performs holiday favorites.
Thursday, Dec. 24 on NBC – Mr. Magoo's Christmas Carol; Holding distinction as the first animated holiday program produced for television stars, Jim Backus supplies the voice of Magoo in the musical adaptation of Charles Dickens' beloved story.
These are just some of the great holiday shows this season. There are plenty more and there is definitely something for everyone.
About the Author
Winnie Bonelli is a former entertainment editor for a daily metropolitan New York City area newspaper. She is passionate about movies and television and loves to take readers behind the scenes.